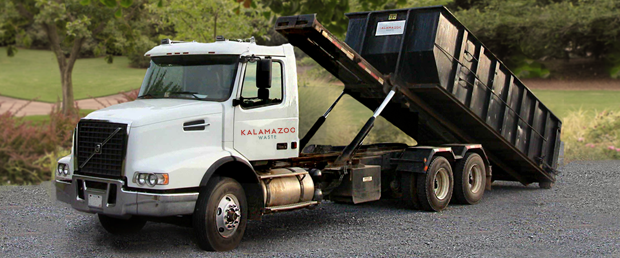 Welcome to K-zoo's premier dumpster rental service! For over five years, we've been bussing dumpsters to locations all throughout the city, from Colony Farm up to the Eastside and Burke Acres. All of our dumpsters are available for duty in any part of the city. Homeowners, contractors, office managers, retailers, and warehouse operators of Kalamazoo are quite familiar with our distinguished services. We've helped them clean up after high-rise demolitions, living room remodels, office renovations, warehouse cleanouts, and even store remodels. There is literally no project too big or too small for our team of waste removal experts and expansive fleet of roll off dumpster trucks.
If there's a dumpster rental in your future, just give us a call and we'll make sure you get the right one for your project.
The Best Place for Dumpster Rentals
Ordering a dumpster ought to be as simple as baking a pie or making the last payment on your bicycle. But more often than not the process of getting a quote and placing an order is mired in confusion and deceptive sales practices. Fortunately, Kalamazoo residents can rely on us to be their honest dumpster rental provider. Our services are built from the ground up to provide a better waste removal service, one that is based on putting a friendly face on a service that is essential to many in Kalamazoo. From contractors to homeowners, we can help just about anyone with their pile of debris. All we need to know is when you will need your dumpster and where you need it delivered and we'll take care of the rest.
What Does a Dumpster from Kalamazoo Waste Get You?
A full 10 day rental period with the option of extending your rental indefinitely.
Dispose of a huge variety of wastes including household debris, construction debris, electronics, and more!
No need to stress out over getting your dumpster dumped out, we offer empty-and-return service for every dumpster (subject to additional rental charges).
Find the right size dumpster for your project every time you call: 10, 15, 20, 30, and 40 yard dumpsters available year-round.
Order a dumpster with low flat rates every time you make the call to Kalamazoo Waste!
A Company for the Environment
As a waste management firm, we fully believe in preserving the world around us. For our purposes, that means ensuring that our customer's debris makes its way from the job site to the disposal facility without contaminating the environment. We employ a number of safety measures that keep the trash inside our containers, including a tarp cover that fits over the top of our roll off containers once we pick them up. We also impose very stringent qualifications on the facilities that we use. This includes examining their reputation, practices, and adherence to sanitation standards set by the EPA.
If you are looking for a clean and green waste disposal company, look no further than Kalamazoo Waste. We'll get you the right dumpster for your K-Zoo construction!